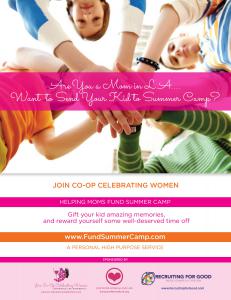 Join the Only Fun Co-Op Helping Moms Fund Summer Camp

We Help Co-Op Celebrating Women Members Fund Fun Fulfilling Life Experiences www.RecruitingforGood.com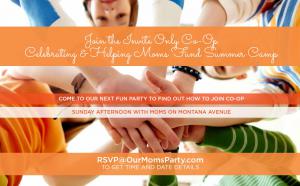 Our Moms Party in Santa Monica
Santa Monica based invite only Co-Op Celebrating Women with Recruiting for Good; will help the first 25 L.A. moms who become members Fund Summer Camp.
Join the only fun Co-Op Celebrating Women and helping moms fund summer camp"
— Carlos Cymerman, Co-Op Celebrating Women Founder
SANTA MONICA, CA, UNITED STATES, October 5, 2018 /EINPresswire.com/ — Co-Op Celebrating Women is taking in applications for membership, and will reward members (moms) access to collaborative service provided by founding Co-Op member Recruiting for Good; helping moms fund summer camp. Moms enjoy discounts for the best specialty summer camps to invest in kids' artistic/creative expression, learn French, and inspire tech development (Coding, Robotics, STEM).
According to Co-Op Founding Member, Carlos Cymerman, "It is fun, purposeful and rewarding to invest in our kids' future; and give moms a badly deserved vacation away from the kids."
How to Qualify for Co-Op Membership
Attend one of our fun invite only Santa Monica Our Moms Party event and RSVP@OurMomsParty.com to get details (time and date).
Carlos Cymerman adds "For moms who really need to getaway, we are also helping fund special Girls Paris Trips. We'll help fund a sleep away camp for your kid, and your trip to party in Paris."
About
Co-Op Celebrating Women is a Santa Monica Based Social Co-Op that develops personal and meaningful relationships with our grateful members; together, we participate to help fund community service, 'Our Moms Work,' and enjoy fun fulfilling life experiences. www.Co-OpCelebratingWomen.com
Fun French Parties are sponsored by Co-Op Celebrating Women. The invite only celebrations; combine activities women love most, with the opportunity to learn conversational French in intimate Santa Monica party settings. To join the next party and experience life differently; RSVP@FunFrenchParty.com to receive a party invite with details and date of party. Visit www.FunFrenchParties.com to learn more.
Proud Co-Op Celebrating Women Member, Recruiting for Good is a socially progressive staffing company in Santa Monica, finding talented professionals great jobs, since 1998. Companies retain us to find the best talent in Accounting, Finance, Engineering/IT, and Marketing/Sales professionals. We reward referrals with fun experiences. We sponsor www.OurMomsWork.org.
Our Moms Work is a Santa Monica based community service sponsored by Recruiting for Good; offering cost free personal career mentoring services. In 2019, coming out with funded services to offset the cost of running a business for mom entrepreneurs and business owners. Our fun mission…"When we love life…the party never ends." www.OurMomsWork.org
Carlos Cymerman
Recruiting for Good
3107208324
email us here
Visit us on social media:
Facebook
Twitter
LinkedIn

Source: EIN Presswire