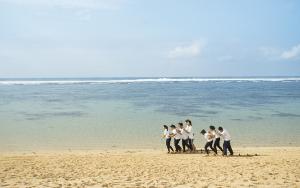 Bakiak Rennen am weißen Sandstrand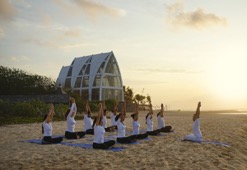 Yoga Gruppenaktivität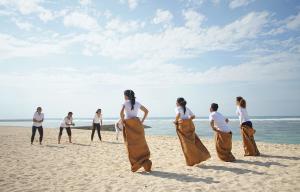 Sack Race – Indonesisches traditionelles Spiel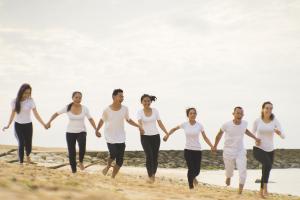 Angenehme Teambuilding-Aktivität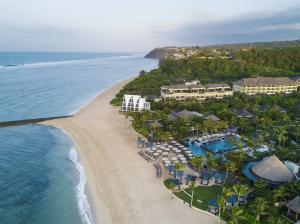 The Ritz-Carlton, Bali ist ein perfekter Ort für einen Tagungsort
Dieses inspirierende neue Programm wurde sorgfältig erstellt, um die wertvolle balinesische Philosophie des Tri Hita Karana widerzuspiegeln und um Einzelpersonen und Teams zu motivieren"
— Karim Tayach
BADUNG, BALI, INDONESIA, October 22, 2018 /EINPresswire.com/ — Ein unvergessliches Meeting-Erlebnis im The Ritz-Carlton, Bali mit dem neuen Angebot des Resorts: das Tri Hita Karana, basiert auf drei Grundprinzipien des balinesischen Lebens. Es bedeutet übersetzt: Harmonie mit Gott, Harmonie mit dem Mensch und Harmonie mit der Natur. Das Angebot macht das preisgekrönte Strandresort zu einem der besten Tagungsorte der Insel.
Exzellente Tagungsräume, der Konferenzsaal, die hervorragende Lage und innovative Programme, die vom Spirit Balis inspiriert sind, bieten Gästen einen einzigartigen Einblick in das traditionelle Leben auf der Insel bieten. Dieses Incentive-Programm beinhaltet ein Ritual zur Seelenreinigung, unterhaltsame Teambuilding-Aktivitäten und eine faszinierende Tour durch den kulinarischen Garten und einen Kochkurs. Die Balinesen glauben, dass das Gleichgewicht zwischen spiritueller und physischer Welt der Schlüssel zu Wohlbefinden und Wohlstand ist.
Das traditionelle Seelenreinigungsritual wird von einem balinesischen Priester bei Sonnenaufgang geleitet und beinhaltet ein Opfer der Hingabe, gefolgt von einem Ritual mit heiligem Wasser, um Körper, Geist und Seele zu reinigen.
Kräuter und Gewürze spielen eine wichtige Rolle in der balinesischen Küche ebenso wie in der traditionellen Medizin. Bei der informativen kulinarischen Garten Tour erfahren Gäste wie sie Zutaten in der Küche bei einem Kochkurs einsetzen können. Gemeinschaft spielt in der balinesischen Küche eine große Rolle und traditionell kommt das ganze Dorf zusammen, um Feste für Feiern und Zeremonien vorzubereiten. Gäste erleben diesen Gemeinschaftsgeist wenn sie in der Culinary Cave ein eigenes Fest mit klassischen balinesischen Gerichten zum Mittagessen zubereiten.
Auch die Philosophie der "Harmonie mit dem Mensch" wiederspiegelt das starke Gemeinschaftsgefühl auf der Insel, von welchen unsere unterhaltsamen Teambuilding-Aktivitäten des Programms inspiriert sind. Der abgelegene, weiße Sandstrand des Resorts ist ideal für traditionelle Spiele und wenig anstrengende Strand-Aktivitäten wie Sackhüpfen, Tauziehen und Murmel- und Löffelrennen.
"Dieses inspirierende neue Programm wurde sorgfältig erstellt, um die wertvolle balinesische Philosophie des Tri Hita Karana widerzuspiegeln und um Einzelpersonen und Teams zu motivieren, begeistern und zu belohnen. Ich versichere Ihnen, dass Ihre nächste Incentive-Reise ein voller Erfolg wird", so Geschäftsführer Karim Tayach.
Das The Ritz-Carlton, Bali hat ein neues Video des Tri Hita Karana Incentive-Programms veröffentlicht, das Sie hier ansehen können.
# # #
Über das The Ritz-Carlton, Bali.
In elegant tropischem Ambiente begrüßt das The Ritz-Carlton, Bali mit atemberaubender Kulisse der Felsklippen und des weißen Sandstrandes seine Gäste. Ob Familien- oder Businessaufenthalt, der beruhigende Blick auf das azurblaue Wasser des indischen Ozeans lässt alle Gäste des Resorts in den 279 geräumig und üppig gestalteten Suiten und 34 Villen in luxuriösem zeitgenössischen balinesischen Ambiente entspannen. Entlang des Meeresufers liegt der The Ritz-Carlton Club®, sowie sechs moderne Speiselokale, ein exotisch und maritim inspirierter Wellnessbereich und viel Spiel und Spaß im Ritz Kids Club für Kinder jeden Alters. Die direkt am Strand gelegene glamouröse Kapelle ist der perfekte Ort für wunderschöne Eheschließung und eine große Gartenanlage bietet Platz für private Feierlichkeiten und Hochzeiten auf Bali. Voll ausgestattete Konferenzräumlichkeiten, luxuriöse Tagungs-Venues und individuelle Pauschalangebote, von unseren erfahrenen Event-Planern zusammengestellt, lassen Events zu kreativ inspirierten Veranstaltungen auf Bali werden. Sei es eine Konferenz, Urlaub oder Flitterwochen, das The Ritz-Carlton, Bali ist der perfekte Ort, um Ihren Aufenthalt unvergesslich zu machen. Folgen Sie uns auf Facebook, Instagram, Twitter, Youtube und LinkedIn.
Prhativi Dyah
The Ritz-Carlton, Bali
+62361848988
email us here
Visit us on social media:
Facebook
Twitter
Google+
LinkedIn
Meetings mit balinesischer Lebensphilosophie

Source: EIN Presswire